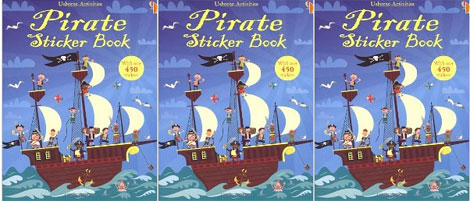 Arrrrr, I do like a good sticker book m'hearties - especially when it's a Pirate Sticker Book up for grabs for £3.29 instead of £5.99.
My niece is obsessed with stickers.
She's only three but is very particular about how and where stickers should be places on things.
Her sticker fetish is a bit of a gift actually, as it means we're never at a loss as to what to buy her; whilst she's fussy about sticker positioning, she's not bothered as to the sticker subject matter.  So whether it's kittens, patterns or pirates, as long as she can STICK...she's happy.
Reviews from people who already own this Pirate Sticker Book clearly show that it will be a winner for anyone who has a love of stickers...
"There is so much to do with this sticker book and so many stickers to use. The themed pages are great, the art work is lovely and there is so much detail. I bought this for my 3yr old but it would also suit a much older child who could do it really well. My son has goats in the sea, pirates in the sky and barrels on building roofs. But he loves it!"
And...
"My 4 and half year old son loved this. We did a page a night for a week. We love these books anyway but this one was the best so far. Sometimes they can have too many stickers and the page just turns into a mess but they got it just right here."
Happy sticking then!
Thanks to mkb_1980 at HUKD