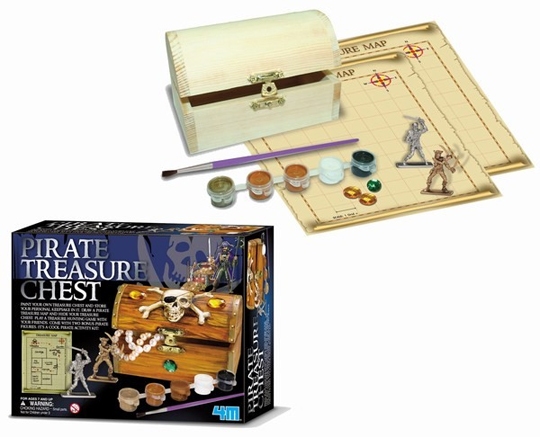 Arrrr this looks like a good deal if you have a young pirate fan in your family - this Paint Your Own Treasure Chest kit is currently on sale over at Amazon for £6.99 instead of £14.99.
There's something rather magical about treasure chests isn't there!  That whole 'X marks the spot' on a treasure map, following the clues and digging up a treasure chest full of spoils is right out of The Goonies (one of the best kid's films ever made by the way) and who hasn't dreamt of stumbling across untold riches; if you say you haven't, I won't believe you.
Your little pirate can paint their own treasure chest and store all their special things in; they can draw their own treasure map and play treasure hunt games with you and their friends.
The Paint Your Own Treasure Chest comes with all the following bits and pieces and isn't suitable for little ones under three years of age:
One wooden treasure chest (11 cms in length)
One strip of paint pots
A paint brush
Some gem stones
A blank treasure map and
Two pirate figurines
I suppose you could also use this Paint Your Own Treasure Chest kit to try and instill early habits of putting things away - ARRRRRR me hearties, I know it's optimistic but you never know!
Happy treasure chest painting!