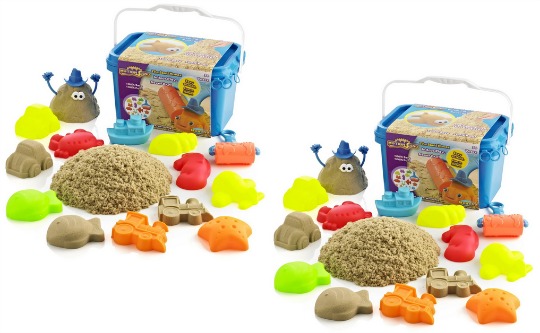 At last, a messy play toy without the mess? Kids LOVE to get dirty but us parents can recoil at the thought of Play-Doh, Moon Sand and the likes. We have all been there.... get the kids to play with it in the kitchen and then that night you find a dollop stuck to the new Hall Carpet and even more on the sofa. This Motion Sand Set sold by Net_Price_Direct (on Amazon) seems to have great reviews which makes me wonder if it could be the "messy toy" to buy. It's only £5.99 plus £2.45 for delivery, so it's well worth a go I say!
The Motion Sand Beach Bucket Play Set is ideal for those rainy days (more ideas can be found here) and for those little ones that live too far from the beach.
This is what you get for the £5.99: 800g of Motion Sand, 9 sand moulds, footprints roller, funny man bits and a strong carry bucket with lid to bung it all in.
The reviews say it's not messy and the kids love it. Dare I buy it? I think it's worth a try. If I end up finding it all over my house then I will let you know.