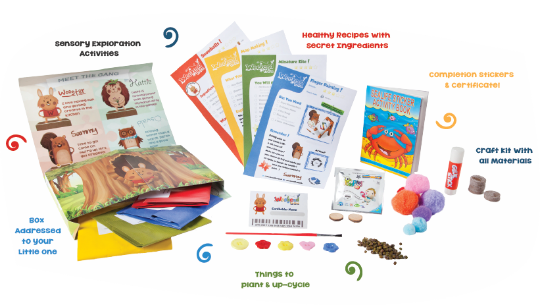 Heard of Weekend Box Club* before? They're a relatively new company who offer, as the name suggests, weekend boxes for families. I say families deliberately as although the contents will certainly appeal to kids, their aim is to provide enjoyable activities for parents too.
Like many kids nowadays my daughter has a ton of toys but she still likes nothing better than spending time with me and for us to do things together. I'm a single mum who works full time and it's not always easy to fit everything in, which is why I need to be organised. That's what I like about Weekend Box Club (well one of the things, I'll tell you about the rest later) they send out everything you need on a Friday all ready to get stuck in over the weekend.
So what do you get and how much does it cost?
The boxes are aimed at kids aged between 3 and 6 years old and cover a wide range of activities including baking, crafting and seed planting and I really like that variety. I can glue and glitter with the best of them but everyone needs a change! You can see some examples here* and it clearly shows what you can expect and what's included.
Your first box will cost zero, zilch, nada, it's completely FREE and if you decide to continue you can opt for fortnightly or monthly boxes at £7.50 each. That's another thing I like, you pay for each box individually so are never tied into a contract. If you have more than one child, additional boxes can be purchased at the reduced price of £4.
Most children I know adore getting things addressed to them through the post and I do think this is a lovely idea, something kids can look forward to not only completing but receiving too. We all know about Poundland and Home Bargains these days but can that really compete with one of these cute boxes addressed to your child complete with everything you need?
Considering the first box is completely free I'm going to give this a go and see how we get on with it, what about you?