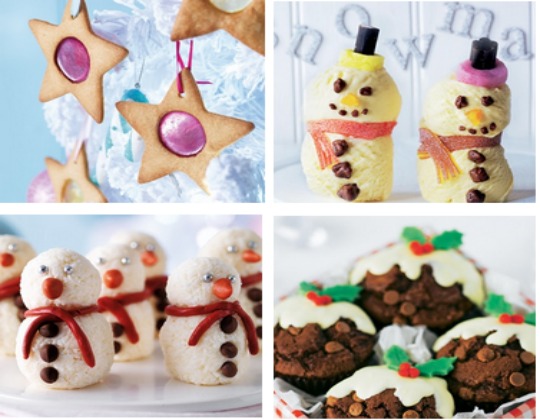 Asda's Kid's Food website is wonderful. You already know I can't cook, so I tend to stick to children's recipes that we can make together. That way it's easy and fun, rather than me struggling to make my pudding look like a Mary Berry creation - no one expects that if a 5 year old has been involved do they? The pressure is off so we can enjoy ourselves!
There are some really great ideas for things to make in the Christmas Kids In The Kitchen section, some as food gifts, lots of desserts and even decorations, and all nice and easy.
I really like the look of the Stained Glass Star Biscuits, as they look so pretty and need so few ingredients too. And I think every child I know would enjoy trying to build an Ice Cream Snowman before the ice cream melts. It looks so easy and fun that I can't believe we haven't tried to make these before! How many kids will try to build their own Ice Cream Olaf then?
The recipes for Food Gifts for children to make might be coming just a little too late to give to their teachers and school friends, but if you're going to relatives on Christmas Day then these might make a lovely little extra for the children to bring. (We'll make you some peanut butter fudge Mum!).
All the recipes include dietary information, as well as how long it takes to make and even the price per serving. You can do the expected of printing or emailing the recipe, or you can click the link to buy the ingredients direct from the asda grocery website.
So the first thing on our list is Ice Cream Snowmen - what do you fancy making?  Have fun! :)