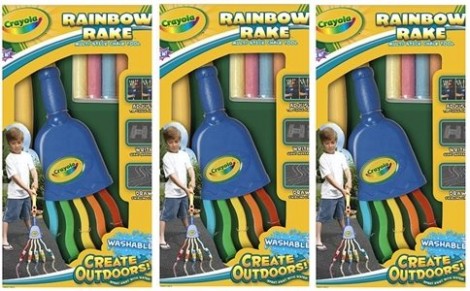 Home Bargains are selling this Crayola Rainbow Rake for £3.99 instead of the £12.99 rrp.
This is the sort of thing I would have loved as a kid!
I have warm and fuzzy distant memories of drawing on our driveway with my little coloured chalks that came with my blackboard easel; I'd draw pictures, hopscotch grids, racetracks and road ways to drive cars around in - they were fun and innocent times.
Things have moved on a bit since then but I'm sure the fun of drawing outside has remained the same, there just seems to be 'something' about having a GIANT canvas, that's not paper, to draw on.
This Crayola Rainbow Rake looks rather fab' to me; it's not very technical, so it won't take me long to tell you about it.
Basically, it's a rake that will hold various different coloured outdoor chalks and crayons; when you drag it along the ground you can create colourful pictures or write giant messages.
When you're done you simply wash away your artistic creations with water or, I suppose, you could just wait for it to rain.  Judging by the weather forecast for most of the country today, you wouldn't have to wait very long.
And that's really all there is to it; good old-fashioned outdoor summer fun with no batteries required.
Thanks to klc979 at HUKD