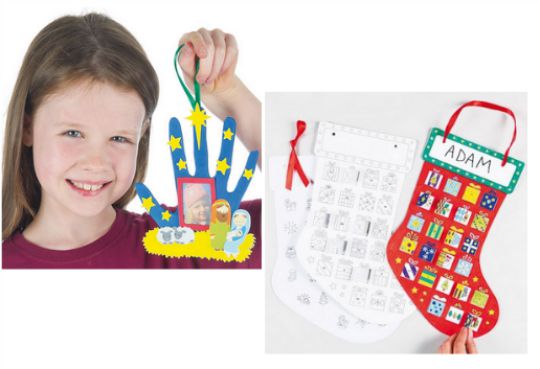 Some Christmas decorations are super expensive, others are cheap tat. We all know that the best ones are of the home-made variety. Get all your bits and pieces in the Baker Ross Christmas Sale. Items start from just 99p and whilst some of it might not be to your taste, they variety is great. There are a total of 195 festive items reduced, so get over there and take a look. Use promo code FBR615for £5 off when you spend £25 or more.
I don't know where to start. I am actually in Christmas make and do heaven. When it's the build up to Christmas, I love nothing more than making decorations for around the house with my children. Baker Ross have everything you need. Forget Hobbycraft because this sale will save you £££'s and will have the kids smiling for ear to ear with Christmas cheer.
Here's our top picks: Square Glass Candle Holders Pk of Six* was £4.50 now £3.96, Owl Ceramic Tealight Holders* was £4.96 now £3.96, Angel Ceramic Hanging Decorations*was £3.99 now £2.49, Christmas Wooden Windchimes* was £3.80 now £1.99 and Pack of THREE Personalised Advent Calendars* was £2.25 now 99p.
Spend £50 or more for FREE delivery. It's £2.99 for all orders under the £50 mark and you can also opt for Collect+ for the same price.