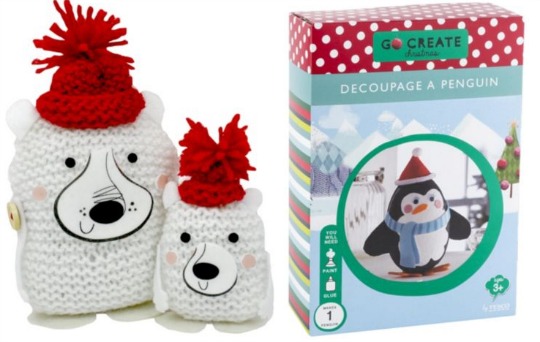 It is definitely the time of year to make the most of the horrid weather. We are all stuck in with the kids and although we have one million and one things to do, the most important one is to keep the kids occupied. If you don't do that, then you will never get anything else done. Christmas is a great time to make things, but time is of the essence and you just don't have time to be faffing around too much so I suggest you hot foot it over to the Tesco Direct site where they halved the price of many Christmas craft sets. They only start at 50p so it's not too hard on our worn out purses.
Now, I know you are probably thinking, kids + crafting = massive mess to be cleaned up. Trust me on this one, not all of the kits include messy bits. Opt for one like this Go Create Colour In Christmas Cards* for just 50p. You get eight in the pack and they ideal for children to give out to school friends.
There's so many cool ones that I am struggling to pick a few to show you! If you have a bit more time, the Mister Maker Xmas Stocking Kit* is a bargain at £1. Or how about Go Create Loo Roll Crackers* an eco friendly crafting kit for £1.75. The kids will have fun and so will you.
Save on the £3 postage charge and opt to click and collect from your local Tesco store.