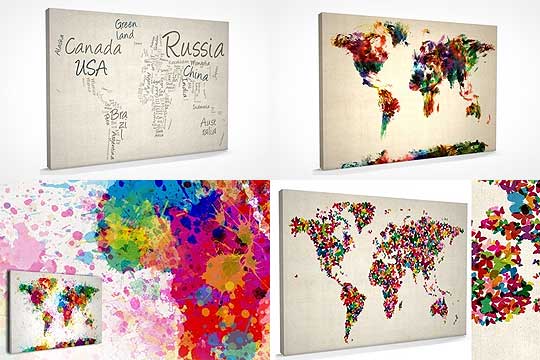 First thing this morning I told you about a map of the world for kids - if you are a world map fan, but would like one with an arty twist to it, then you really have to take a look at these art maps of the world on offer from Groupon.
There are 24 different designs to choose from and they're all available in two sizes: medium - 20" x 30" - for £30, instead of £140 OR large - 30" x 40" - for £35, instead of £160.
I'm really rather taken with these - which won't come as a big surprise if you read my 9am post (it's HERE, if you missed it) - and am torn between three styles:  Paint Splashes, abstract Painting, Text Art and Writing Text.
I love them all and if I want to buy one, I'll need to make up my mind before 11.59pm tonight as that's when this offer expires.
Your art map will come printed on canvas and includes a DIY framing kit with full instructions - this allows the delivery costs to be kept low, which is only an additional £6.95.
This is such a storming price for some really fabulous art, therefore I'm declaring this as my Deal of the Day.
Happy choosing your art map style!