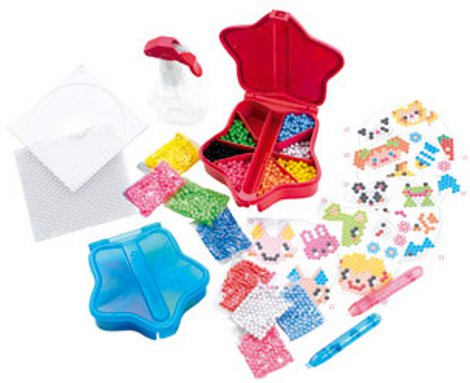 The Aqua Beads Star Case Duo Set is half price at The Entertainer, bringing it to £12.50 for what looks like a fab day's indoor creative fun.
It's been so rainy around our side of the country, my husband referred to a date a couple of weeks ago as 'the day it didn't rain'.  As mum to a toddler, we've coped, but I have felt sorry for our neighbour's preteen girls!
I saw the Aqua Beads Star Case Duo set and thought it looks like a great bit of fun for a rainy day.
The set comes with 1100 Aqua Beads modelling beads, 2 star-shaped storage cases, a layout tray, bead plopper and grabber, four template sheets, water spray and instructions.
According to the blurb on the website, you choose a design you like from the template sheets, fit it into the layout tray, then place the beads in place with the bead plopper. If you make a mistake, simply pick up the bead with the grabber and move it where you want it.  When you're happy with the picture, use the water sprayer to magically join your beads together. When you're done, store your spare beads in the two star-shaped storage boxes for when you're ready to use another template, or make your own design.
And with all the rain, you don't even have to pay for the tap water.