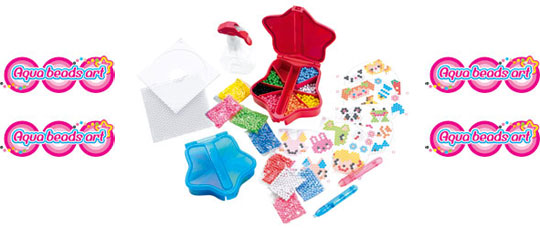 The Toy Shop/The Entertainer are selling this Aqua Bead Star Case Duo set for half price; £12.50 instead of £25; if you've got a young creative girly in your family and are still looking for a pressie for her, then this could be an option for you.
You know the thing I love most about this Aqua Beads Star Case Duo set (well one of them anyway)? It comes with a 'bead plopper' - it's such a fabulous 'technical' term and it just makes me smile (it's the small things that make me happy).
So, Aqua Beads - just in case you've not come across them before - are little beads that you create patterns with and then stick them together with water.
We have various Aqua Bead coffee coasters around the house that have been lovingly made by nieces and granddaughters; you can create larger works of art with Aqua Beads too and display them in frames, if you wish.
Here's what you get with the Aqua Beads Star Case Duo set:
1100 Aqua Beads
2 star-shaped Aqua Bead storage cases
Layout tray
Bead plopper and grabber (see, I wasn't pulling your leg when I said it came with a bead plopper!)
4 template sheets
Water spray bottle
Instructions
This Aqua Beads Star Case Duo is one of those great Christmas gifts that doesn't require batteries, although you will have to provide your own water  *grin*
Standard delivery is £3.50 - the last day for delivery in time for Christmas, with The Toy Shop, is Monday 19 December - or you can collect your Aqua Beads Star Case Duo set for free, if you have a Toy Shop nearby.
Thanks to Lewyladz at HUKD