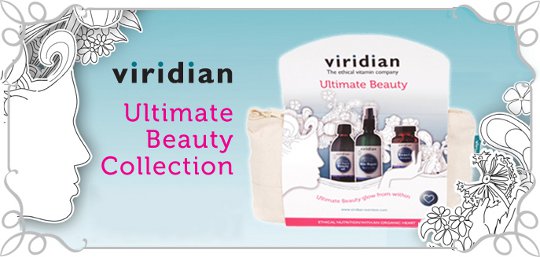 There's something about pregnancy that just makes you want to be healthier. I guess it's the burden of responsibility knowing that you're setting the foundations for a whole other person's life. I don't do pregnancy very well and spend most of the first two trimesters being rather ill, so now that I'm able to, I'm topping up on all the vitamins and nutrients my body had to do without for so long.
We received a gorgeous Ultimate Beauty gift set  (£34) from Viridian, which I leapt on, eager to give it a try.
Viridian is a company with a strong ethical influence, from the fields where many of their ingredients are grown to the recycling banks where the glass bottles their products come in can be recycled they aim to preserve "the ancient health traditions and the sensitive introduction of innovative complementary health foods, supplements and  concepts." Well, it certainly sounds very healthy.
The set I received contained three items in a sturdy and earthy-feeling organic cotton toiletry bag.  That plus the glass bottles certainly give the set a beautiful environmentally friendly appearance from the outset.
The Ultimate Beauty set contains Beauty Oil, Skin Repair and Beauty Complex but Viridian have something for everything in their range, it seems.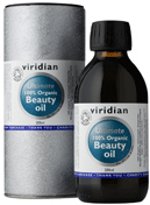 The 100% Organic Ultimate Beauty Oil contains an amazing cocktail of oils, including flax seed, hemp, avocado, evening primro
se oil, pumpkin seed, and Omega 3, 6 and 9. According to the blurb on the product these are "required for the health and maintenance of cellular integrity and membrane fluidity required for the health and maintenance of cellular integrity and membrane fluidity."
So what can I say about it? It smells a bit like walking through a grassy field after the rain, and it pretty much tastes the same. It's not an unpleasant taste, exactly, but it's not something I'd want in a lollipop flavour. It tastes like you're having something healthy.
The downside for me is the oiliness in swallowing. If you mix it in with your cereal or something it's okay, but as a preggo with a very tetchy stomach, I find swallowing the oily consistency very hard and would definitely prefer it in a capsule form. Something I did like about this is that, compared to other Omega enriched oils I've tried you don't burp the taste up for hours after.
Another nice thing is that you can buy the bottle in three sizes (30ml, 200ml and 500ml) so you can start with a small one (£3.95) to see how you cope with it, and then buy the large one (£19.66) which is obviously better value for money.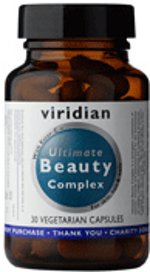 The 100% Organic Ultimate Beauty Oil is recommended to be taken along with the Ultimate Beauty Complex Vegetarian Capsules (also available in three sizes.)
The capsules are vegan and Kosher, and consist of a combination of vitamins, minerals and plant-based ingredients aimed at maintaining the integrity of collagen, which improves the health of skin, hair and nails.
Take a deep whiff of these capsules and you know you're taking vitamins. They smell earthy and again, healthy. There's no immediate "I've just taken a tablet" feeling, but my nails are stronger and my hair is glossy, but not in an oily way.
The final product I've been trying is the Skin Repair Topical Oil. This one is quite pricy, but it lasts a long time  as it's not a daily use product, but more as needed. The list of ingredients is like walking down the isle of a healthfood shop: sunflower seed oil, rosehip fruit oil, jojoba seed oil, borage seed oil, wheatgerm oil, Calendula flower oil, Lavandula Angustifolia Oil and Vitamin E oil. All of these are used for skin healing, so it's easy to see what this Topical Oil is meant to do.
The smell is phenomenal. I adore it. There's a beautiful undertone of lavender but it's balanced beautifully by the other fragrances. I've been using this oil (among others) to prevent stretchmarks and so far so good, but I also use it after a bath sometimesand have even used it on my daughter as it is beautifully moisturising.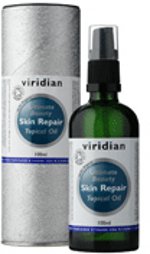 It's not entirely unique, in that there are other oils  with similar properties on the market, but I can't actually think of a single negative to it.
It's incredibly hard to say emphatically that the changes in my health and concentration in the last few weeks are 100% as a result of taking these products, because there's also the likelihood that I'm just coming out of the  'baby brain' stage of pregnancy (if that happens before pregnancy ends) or that the fact that I've  been studying has made my brain feel less hazy, or in fact if it's just a matter of being a little less sickly, but I do know that my general health and concentration levels have increased. I do know,too, that I saw a group of friends on the weekend and was told a number of times that I'm looking really well, so maybe there's something to it!
I think this set would make a fantastic gift for an expectant or new mum, or just as a gift for someone looking to become a little healthier.