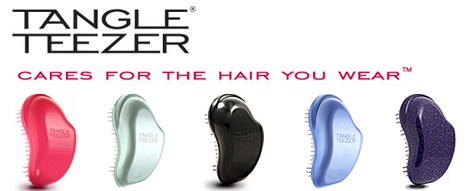 If you have to endure the torture of tangled hair tantrums in the mornings then this genius little Tangle Teezer could just change your life!  LookFantastic have the pretty pale blue one on offer at the moment for £6.99 rather than the usual £9.99.
I have naturally curly hair (that's bullied into straight submission on an almost daily basis) and I can tell you that ringlets do NOT like being slept on.
You can go to bed with knot-free hair and wake up with a proper case of bird's nest head.  This isn't so bad when you're older and can sort it out yourself but when you're the parent of a curly-haired child who is freaking out because you're hurting them, it's horrendous.
Tamsin's nearly six-year-old daughter has THE most soft, downy and beautiful spiral ringlets I've ever seen in my life; they truly are stunning but OH MY GOODNESS they're seriously high maintenance.
I've yet to read, or hear, anyone say anything bad about the Tangle Teezer.  One parent said, "I went from sending a scruffy looking stroppy urchin to school, to a beautifully coiffeured angel literally overnight."  
And another says, "It actually works! My 5-year old daughter loves it. Tangled hair is not an issue anymore. They should sell this at the clinic when the baby is born.... ;) Buying one for myself now! - and one for my friends daughter, and one for....... The list is long!"
The Tangle Teezer isn't just for kids with curly hair, by the way, if you're trying to grow yours but it keeps breaking, then a Tangle Teezer could help; if you have hair extensions, a Tangle Teezer will help too.
Delivery is freeee!
Thanks to Guan at HUKD