SALE NOW: Items From £4.50 Plus Free Cleansing Cream With All Orders @ Burt's Bees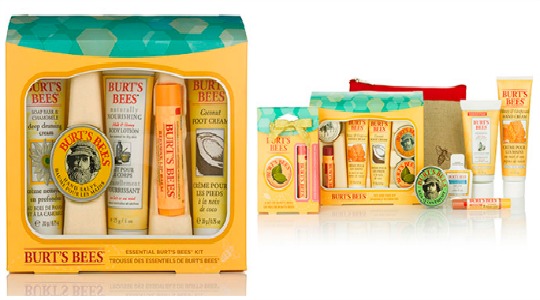 Have you ever used Burt's Bees skincare before? They make 100% natural skincare items for adults, baby and children. It's nice to find a brand gentle enough for the whole family. They aren't as expensive as other natural skincare brands either. They have a sale on just now and items start from just £4.50 PLUS you get a FREE Mini Soap Bark and Chamomile Deep Cleansing Cream with any order.
There's a few gift sets that would make nice birthday presents or how about a present for your child's teacher (end of school year gift)? This Essentials Burt's Bees Box* is now only £9.99. It contains Beeswax Lip Balm, Naturally Nourishing Milk & Honey Body Lotion, Coconut Foot Cream, Mini Hand Salve and Soap Bark and Chamomile Deep Cleansing Cream.
This Tips to Toes Grab Bag* it's now £24.99 in this sale. This has a lot in it, like over £50 worth of skincare. Replenishing Lip Balm with Pomegranate Oil, Lemon Butter Cuticle Cream Mini, Hand Salve Mini, Coconut Foot Cream Mini, Honey & Grapeseed Hand Cream Mini, Almond and Milk Hand Cream Mini, Naturally Nourishing Milk and Honey Body Lotion, Honey & Grapeseed Hand Cream, Refreshing Lip Balm with Pink Grapefruit, Lemon Butter Cuticle Cream, Res-Q Ointment, Intense Hydration Night Cream sample, Lip Shimmer Caramel and a Linen Cosmetic Bag.
Delivery costs £3.95 or FREE when you spend over £25.