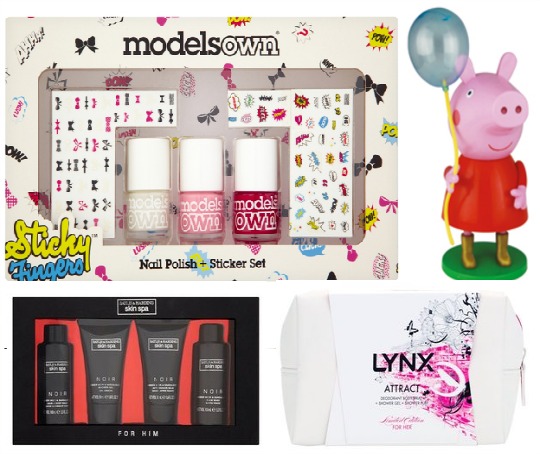 I have successfully managed to buy ALL of my Christmas toys, but now I am needing those vital Christmas smellies. You know, like the Lynx giftsets and the bubble baths that come in cool plastic Peppa Pig bottles etc. These are the types of gifts that never go amiss with anyone. You can get away with buying them for little niece Nikki, Uncle Dan or even Great Granny. There's something for everyone in the gift range in Superdrug, plus they have up to half price all of them!
So who have we still got to get for? The kids? Here's some of the children's gift bargains: Peppa Pig 3D Balloon Bubble Bath*reduced to £5. Sweet Snuggles, Hug me bear* is now just £7, reduced from £12.
What about Dad, Uncle Simon and Grandad? The L'oreal Paris Men Expert Action Man Set* was £10 and is now £6.50. A shaving set is always well received, and this Gillette Glide Set*has £2 off, making it just £8.
And that leaves Mum and Auntie Karen. This Models Own Lux Set* of nail varnish is a bargain at just £7 for those that like to preen. Or this Lipsy London Fashion Palette* reduced from £12 to just £8.
Free delivery when you spend over £10.