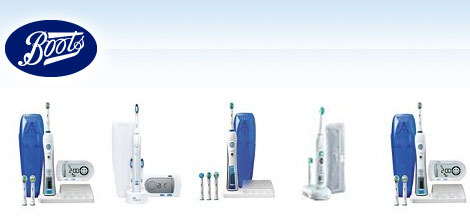 When I say cheap electric toothbrushes at Boots, I mean they have half price deals on selected Oral B electric toothbrushes for, both, kids and adults.
I remember when electric toothbrushes first came out; we had one and my mum bemoaned about how it would encourage nothing but laziness.
She still holds that view today even though the oral healthcare professionals are of the opinion that electric toothbrushes are the only way you'll really get your teeth clean.
If you've ever looked at the price of electric toothbrushes, especially top if the range ones, then you'll know just how much of a dent buying one will make in your monthly budget - they're certainly not an impulse purchase.
I have a bit of a thing about my teeth and I visit my hygienist every 12 weeks - she's more of a friend than a service provider now - and last year she told me that the run up to Christmas is the perfect time to pick up a quality electric toothbrush for the same price as a cheap electric toothbrush.
She wasn't wrong then (my hygienist is ace!) and the same is happening again.
Boots aren't the only place to be offering half price electric toothbrush deals – so have a scout around when you're out and about – but they are the best place I can link to.
Oral B are considered to be one of the elite and models vary from basic everyday cleaning ones, through to ones that have all sorts of lovely features like deep cleaning, whitening and dentist-like polishing and sensors to tell you when you're brushing too hard.
The prices vary too, but the cheapest and most basic models start at around £15 (that's the half price price by the way) and goes right up to £89.99 for a top of the range all-singing-all-dancing one (it would normally cost you £179.99!).
Thanks to kamb1ng at HUKD