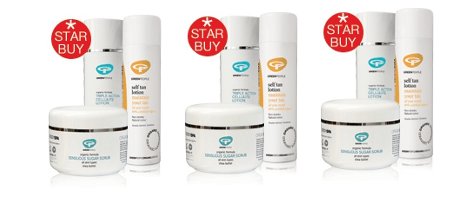 Three beautiful beauty products are on offer at Green People this month for £40. The Body Beautiful package saves you £18.25
It was such a beautiful day yesterday, I actually pulled some shorts out the cupboard for the first time this year.  Most of us, at this time of year, need to give our legs and feet a good bit of TLC, however, and this kit from Green People  seems like the thing to do it.
The Body Beautiful package consists of:
1 x Triple Action Cellulite Lotion 150mla non-invasive organic formulation which contains a patented herbal extract of bayberries, clinically proven to both remove and prevent cellulite.

This blend of active therapeutic plant extracts and essential oils tightens, tones and releases accumulated fluid and built-up toxins, helping to leave skin smooth and silky.

1 x Self Tan Lotion 200ml– this is the first certified organic self- tan lotion in the UK, and is suitable for people prone to eczema or psoriasis.
Happy pampering!