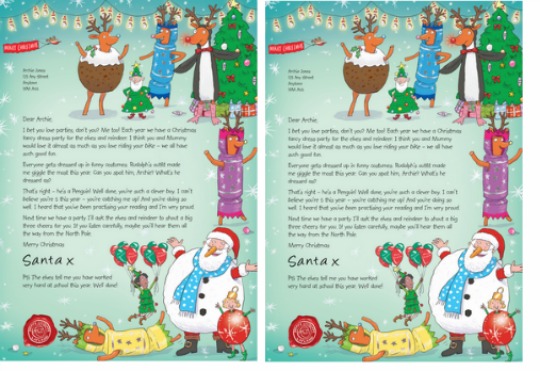 I have fond memories of writing to Santa and waiting everyday, in the front porch for the Postman to come with my reply. It's little things like that, that make Christmas so very special. We all have our little ways of making our little ones excited about the festive season. You don't have to spend £££'s to do it either. The NSPCC offers a service that sends out a personalised letter from Santa to your child. They do ask for a donation and that's understandable, after all they are a charity.
The NSPCC suggest a donation of £5, however that amount is not enforced. Meaning you can donate whatever you can afford. You can order up to six letters at a time, and you just pop in the amount you are willing to pay per letter.
The letters are colourful and you get to choose from lots of templates. You can choose between English and Welsh language on it, then onto filling in some basic details about your child and their favourite activities etc. There is a space for you to add a personal message if you like.
You can pay your donation by Paypal, which is really handy if you already have funds in your account. You can pay by card so don't worry if you aren't clued up on Paypal.
Thanks to stefg @ HUKD