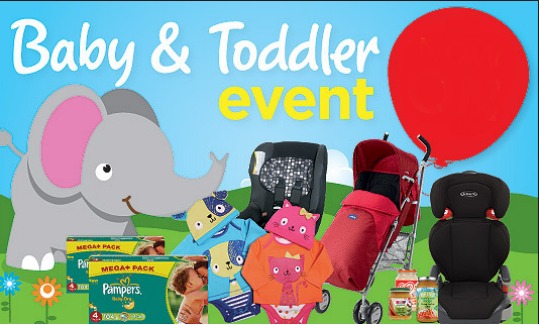 January is the month of the skint parent. Five week months and so on. We all count down to pay day or a miracle to get us through to that next pay day. We long for things like the Asda Baby and Toddler Event, and the good news is it's soon! Cheap nappies, baby food and baby equipment galore will be coming to your local Asda store on the 19th January. It launches online on the 17th January, two days earlier than instore.
There's always a good array of items on offer. Typically you will find Pampers and Little Angels (Asda's own brand) nappies and wipes at really low prices. Stock up if your purse allows you to, as these are necessities.
For those of you who are expecting: there's normally a mixture of Avent and Tommee Tippee sterilisers, bottles and weaning sets. Little Stars playmats and bouncers generally feature in the event also. You can certainly pick up some bigger purchases for great prices when the Baby and Toddler Event is running.
Often you can find a couple of Mamas and Papas offerings in the form of the Snug and a Stroller. Get them during the event and you'll save yourself lots of £££ compared to buying direct from M&P.
We will remind you nearer the time about this fab money saving deal that is the Baby and Toddler Event at Asda.