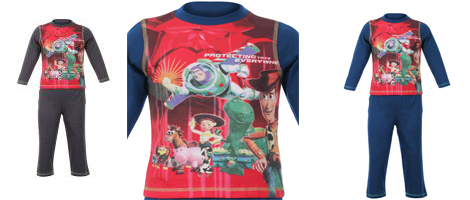 Toy Story 3 fever continues to rise as the DVD is released and the merchandise is prepped for the Christmas rush. I even saw a Toy Story 3 train set at an adult model making store on Saturday! Madness! Anyway, this adorable pyjama set is a great price at £4.99 and snuggly for the cold at The Hut.
The price of £4.99 for a pair of Toy Story PJs seems really reasonable to me, although I object to the fact that they are labelled as "boys" when either gender could happily wear it. Just because it isn't pink doesn't mean a girl won't like it!
Pushing my minor rant aside, these PJs are available in 3-4, 4-5, 6-7, and 8-9 years and have been marked down from £19.99. Wow, nearly £20 on pyjamas! I'm glad I waited until it was discounted.
The PJs have a full chest print of Buzz Lightyear and Woody and are 100% cotton, machine washable and full length. Scrummy!
Thanks to mgk at HUKD!