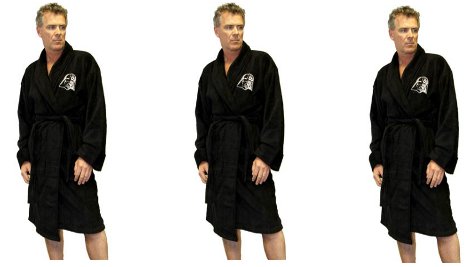 Play have a Star Wars Darth Vader dressing gown on sale for £9.99 instead of £59.99 – which I initially thought was a mistake, since that's a £50 or 83% discount. This item also has free delivery.
Fathers day is a little way off yet, but with a price like this, can you afford not to be prepared? Especially if your name is Luke. Or not.
But seriously, if your partner or dad (or mum, for that matter) is a Star Wars fan, this is worth buying and keeping in the cupboard.
The reviewers were happy enough with it, with one feeling it was very cheaply made, but the rest not agreeing, although all felt it was thinner than they expected.
The dressing gown is made of 100% cotton velour, is "fabulously warm and cosy". It has a Darth Vader helmet logo embroidered on the front, a cotton belt and two large pockets.