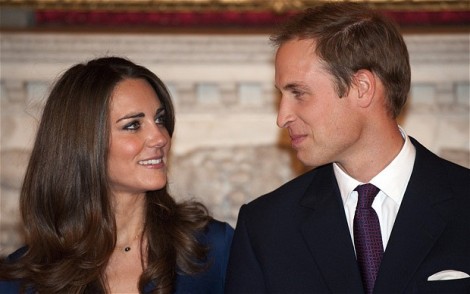 Whether you're a fan of the Royal Wedding or not the weather forecast for the UK tomorrow is sunny and warm (not as toasty as the Easter weekend but still warming up nicely during the day) so why not hold yourself a tea party?
It's not too late to invite some mates, grab the kids, and head out to a lovely picnic spot near you. Thanks to the abundance of open parks and grounds in the UK, you can host your Royal Wedding tea part for free. Just make sure that you get to your chosen spot nice and early so you don't end up squished in the last dark and mouldy corner of the park.
So how can you make a themed tea party at such short notice without spending a fortune? Well, here are some Royal Wedding bargains that you can snap up on your way to your chosen picnic spot…
Let's start off at Debenhams where you can buy a box of six large Opera wine glasses for a mere £15. Impress your guests with this high quality glass design from…Royal Crystal. If you're going to have a royal picnic, do it in style!
While you're picking up your glasses, drop into the men's department to try on some men's royal blue shirts that happen to be on sale. The Mantaray royal blue check shirt or t-shirt have been dropped to fabulously low prices. However, the winner is definitely the Maine New England royal blue crew neck jumper, oh yes that WILL go nicely with the glasses.
No Debenhams nearby? Well, never fear for M&S happen to have quite a few little extras for your party. If you're not married but plan on popping the question to your special other half tomorrow, well then maybe you'd like to get the M&S platinum plated wedding bands for only £18?
Although the definite winner is the M&S 25% off all wines sale which means you can stock up on looovely tipple for your picnic. Buy lots, save some for later, relax and enjoy your day in the sun. And if that spring wind is a bit biting, you won't really notice.
To set up your spot why not pop into Tesco and nab some of their instore deals on Royal Wedding merchandise. My local store has marked down quite a few of the paper plates, hats, masks and napkins but as each area is different, it is well worth your taking a peek at what's on offer near you.
Sainsburys are also offering Royal Wedding picnic and street party items at lovely low prices so those of you who don't live near a Tesco can also get some great deals. Don't buy stuff that isn't on sale, or that you already have. Less is more when it comes to a Royal Wedding picnic and you can't have too much plastic or paper near those lovely wine glasses you bought.
Oh, and ASDA have some ace Royal Wedding bits and pieces like their Royal Wedding butter cookies in a commemorative tin for only £3. Genius. Will will stare at you in disdain as you sneak into the kitchen at 1am to satisfy a cookie craving.
While you're at your local superstore, why not nab all the ingredients you need to make these amazing Royal Wedding recipes from BBC Food? Take a gander at some of these ideas; they are incredibly creative and clever!
You can go with retro British recipes, street party snacks, buffet-style feasts, or clever party food. Just reading the different items on offer is making my mouth water!
Once you've sorted out your food and décor, what are you going to do with the kids? Well,  start off by zooming into your nearest Poundland to catch some extra items you need like the Union Jack cushion cover and the party poppers. And, obviously, the Royal Wedding mug and plate set (£1 per item) to nibble your meal off.
Grab some art kids and drawing kits, a kite or two, and some fun activities for the kids while you're there too. That way they can't moan about being bored! 
And to draw on the fun and bring back happy memories, you can pre-order The Royal Box/The King's Speech/The Queen/Young Victoria box set for 09 May and for only £14.99. That's a total bargain for four movies, two of which received accolades galore.