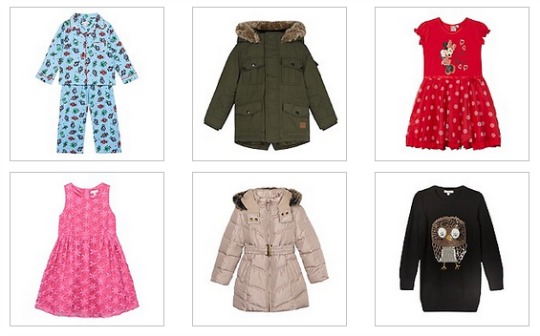 Debenhams pretty regularly have discounts of 30% or so on, but looking at this January Sale they seem to have a huge amount of stock reduced by at least 50%, and with the many designer ranges this includes you could pick up lots of bargains right now. I looked at Children's Clothing, but the 50% Sale is across many departments both online and in stores.
In Kids Wear there are more than 1200 different items that are reduced by 50% or more, with prices starting from as little as £1.75 for accessories, £2 for t-shirts, and £3 for sleepsuits, trousers and tops. The school wear is amazingly cheap, below supermarket prices in some cases, starting from as little as £2.50 for packs of 2 school polos or shirts!
Lots of the designer clothes are amongst the best sellers, and at half price you can get Jasper Conran, John Rocha, Red Herring, Ted Baker and lots of other great quality ranges for the same price you would normally pay in the supermarkets!
It's hard to pick highlights from such a large selection, and to do so risks disappointment if they don't have it in the size you need - as stock is going fast availability varies a lot between styles. I'd be tempted to filter by size so that I can browse a more manageable selection than 1200+ items! If you include everything in the sale for kids there are nearly 4000 to choose from!
With free click and collect available it's definitely worth a look to stock up for the kids.