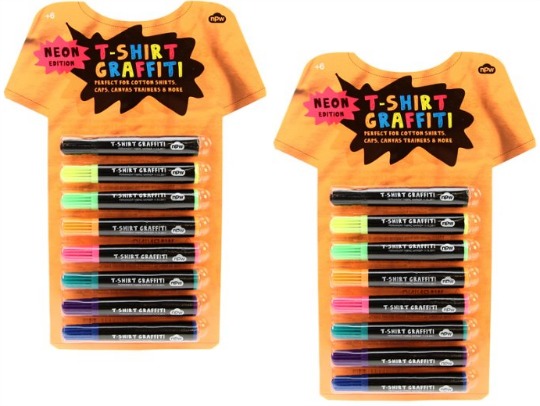 What to do with the kids when the weather is shocking and money is tight on this very long post-Christmas month? Grab a pack of these NPW Neon T-Shirt Graffiti Pen Set from Amazon for just £2.50. This is a great price for these and normally you would pay £5 or more for these.
Whether you let the kids use these on their own clothes or to make glamorous clothes for their dolls these will be great fun for the kids. Not to mention it will more than likely bring out their creative side.
In each set you will receive  eight neon coloured fabric pens. If you have an older child, one that is at secondary school or will be going after the summer holidays, then why not by a canvas bag and let them do their own design on it with these.
Once used on fabric, these pens can be left to dry at room temperature for twenty-four hours or ironed on to cure straight away. Once cured they will not wash away, in fact you can machine wash or dry clean your customised garment and it won't budge.
You do of course need to spend £10+ for Amazon's FREE Super Saver delivery, so why not buy four packs for a upcoming birthday party, buy some plain T-Shirts and let the kids doodle their own designs.