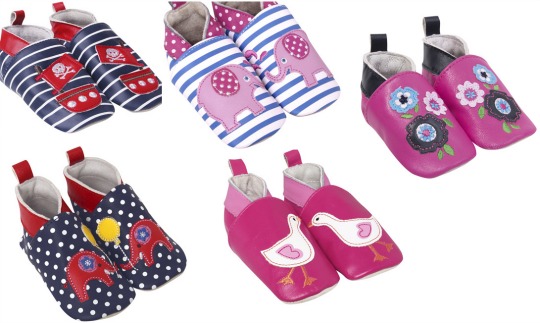 Originally £14, these start from just £3 now and standard delivery, as always from Jo Jo Maman Bebe, is automatically free.
There's various sizes available at this price, some have more than others, and I'll list below exactly what those are to save wasting your time.
(Sizes 0-6, 6-12, 12-18 and 18-24 available on these)
(sizes 0-6 in navy and 0-6, 6-12, 12-18 and 18-24 in pink available)
(0-6 and 12-18 available)
(Just  12-18 available on these)
(Just 0-6 on these)
They do have Whale Leather Booties* but these are only reduced to £8, so not as much of a bargain but still a cracking price considering they're leather.
You can find the whole of the kid's clothes sale here.* It's well worth checking out with items like Boys' Swim Nappies* reduced to £3 from £12, they really do have a few bargains at the minute.
As I mentioned above, standard delivery is free, simply pop the items you want in your basket and checkout as normal, no code required.