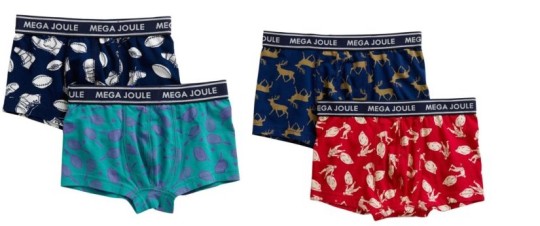 Joules eBay have boys underwear sets from £4.95 delivered right now. The Christmas set is the lowest priced, and the others are £5.95, also delivered.
We've had a few of you comment about how you're almost done with your Christmas shopping, so here are a few of those 'practical' stocking fillers for the early birds.
Joules Santa underwear* are cotton pants with a 'touch of stretch' as it says in the description. They are available in sizes from 3 to 12 years.
There's also a rubgy set* for the more sporty among us, with prints featuring rugby balls and togs, and another featuring tennis racquets, which had... nothing... to do with rugby the last time I watched a match, but they're a nice colour anyway. This is only available in two sizes for ages 3 - 6 though, but they look quite.. comfy, if I may say so!