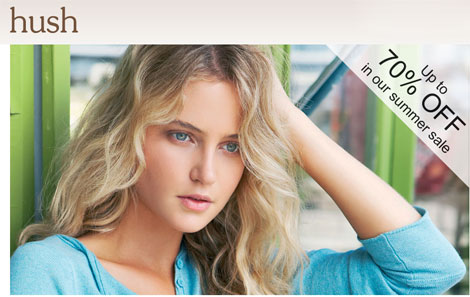 I don't dare go to Hush very often because they are VERY bad for me and I already have lots of lovely Hush things in my wardrobe; their summer sale is now on and you can save up to 70% on various items.
You can never have enough Hush items and I'm rather hoping that if I tell YOU all about them, by the time my resolve weakens and I pay them a visit everything will have sold out.
I know it's summer, but I'm currently in the market for warm winter clothes and my most favourite Hush item of them all - the BIG sloppy jumper, in its various guises, is on sale for £20 instead of £45.
There are lots of other yummy things up for grabs in the Hush Summer Sale - they have an amazing nightwear range and there are some rather lovely summer dresses on sale too (reduced to £35 from £50),  so if you REALLY can't be persuaded by a summer slouchy jumper or the deep V version (which are to die for by the way) then maybe something else will take your fancy and you'll be able to save yourself a few of your hard earned Great British pounds.
Summer slouchy jumper?  No? Oh go on! They are gorgeous and I'm sure it would look fabulous on you!
Happy Hushing!