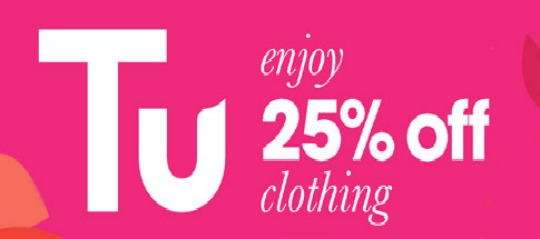 A little birdie has told us that Sainsbury's are launching 25% off ALL of their Tu clothing, starting on Tuesday 28th October. This will be instore only, so if you happen to have a big Sainsbury's store near you then you should be able to scoop up all of the bargains. As far as we know, there will be no restrictions at all, meaning that if your local store has any reductions on any of the Tu clothing lines then you should still get your additional 25% off. Obviously, this is not set in stone but this is certainly how it's been in the past.
George clothing by Asda used to be my ultimate favourite when it came to "supermarket fashion" that was until Tu came on the scene. More and more their clothing items are being shown in women's magazines, which to me just mimics how I feel about the range.
In my opinion, Tu children's clothing is only beaten by Morrison's Nutmeg and that's only just. Never have I bought ANYTHING for the kids from Tu and it not washed well. The pricing of the baby clothes are very reasonable, so you can definitely pick up a bargain once this 25% off kicks in. If we find out anymore with regards to this promotion, we will let you know!
Thanks to our little birdie Helen over on our Facebook page.