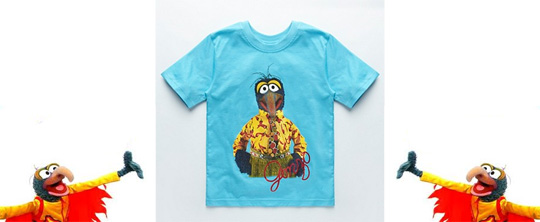 Debenhams are selling blue t-shirts featuring Gonzo, from the Muppets, on the front for between £3.30 and £3.90 depending on the size you need - their original prices were between £11 and £15.
Debenhams describe this t-shirt as a boys blue Gonzo t-shirt - well hang on a minute, Gonzo was one of my favourite Muppets when I was little, AND I've always loved wearing blue so does that mean I wouldn't be allowed to have a boys blue Gonzo t-shirt because I'm a girl?
I'm in a feisty mood today - I feel it's only fair to give you warning - so I refuse to label this t-shirt as a boys blue Gonzo t-shirt!
Gonzo was/IS too cool (almost as much as the Cookie Monster!) and this blue Gonzo t-shirt is currently available in the following sizes:
4-5 years
5-6 years
6-7 years
7-8 years; and
8-9 years
Now, delivery - you can collect your blue Gonzo t-shirt for free from your local Debenhams store, or you can pay £3.99 for home delivery; if you spend over £30 however, standard delivery becomes freeee.
Thanks to andywedge at HUKD