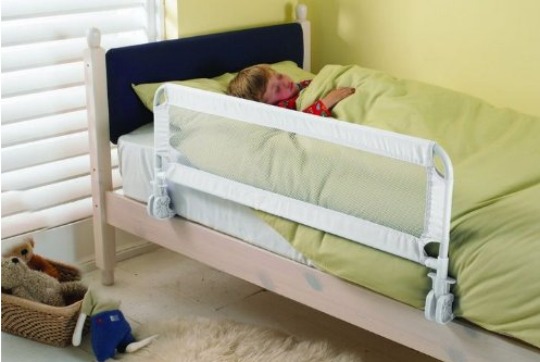 You know that dreaded feeling you get, when it's three in the morning and all you hear is a massive thud? It's normally followed by lots of crying, and then you caving in and letting the little one in your bed. Get one of these. The best £9.99, you will ever spend. It'll give you piece of mind and keep your little one safe. The Babyway bed rail costs £19.99 from Asda Direct, get it from Amazon and save ten pound.
The Babyway bed rail clips on securely to bed side with a locking mechanism. It's no use without that, because all that would happen is that your child will roll out of bed and take the rail with them. It's over a metre in width so it stretches across most of the length of the bed.
It's suitable for children aged one and a half. It is easy to put up and to fold away. With my eldest two, I used bed rails. I had to, they were forever falling out. They soon get used to it and it teaches them to stay in bed.
To get your Babyway bed rail delivered for FREE with Amazon's Super Saver delivery, then just add this sim card* for 1p.