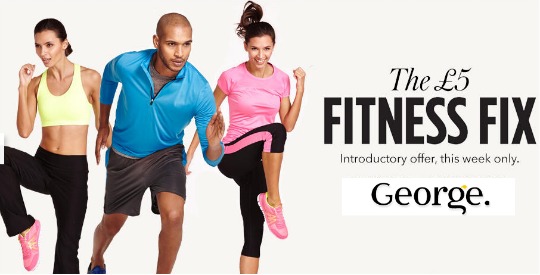 We told you last week about the new Workout Wear that was being introduced at Asda, and this week they have added more lines and made lots of them just £5 each!
This is part of their £5 Fitness Fix promotion, where they are giving low introductory prices this week only on 18 basic pieces of fitness clothing. At £5 are various styles of Leggings, T-Shirts, Vests and Sports Bras. The only thing that isn't £5 is a Swimsuit at the introductory price of £8, which is still a great bargain.
When you look at the individual items the prices shown are the regular prices, but when you add the item to your basket the price will change to the £5 (or £8 for the swimsuit). No code is needed.
If you are attempting to start, or carry on with an effort to improve your health and fitness then getting your fitness gear as cheap as this will soften the blow of the cost of gym fees or workout DVDs. You can't really get much cheaper than this for workout gear.
All the clothing items on promotion can be bought online, and also in stores depending on availability. Delivery is the usual £2.95, or you can click and collect for free.
Seeing these is almost making me consider giving fitness a go myself...almost. ;)