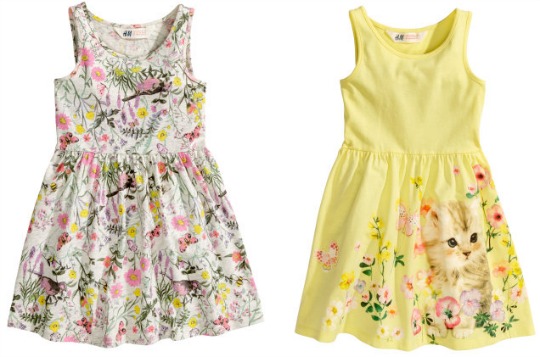 I love these girl's summer dresses from H&M. They're so versatile, comfy and are 100% cotton. I always stock up for summer, especially for holidays, they don't take up much room in the case, don't crease and can be worn during the day or dressed up for evening.
They do sell these dresses in store but they tend to run out of stock very quickly. With the discount code 2938 not only can you get free delivery on everything you also get another 10% off, making three dresses £8.07 delivered. Total bargain at £2.69 each with free delivery.
They come in four different styles, two of which I've shown above but the link will take you to them all and they're available from 18 months right up to 10 years. Unlike lots of other stores H&M don't increase their prices according to the size you choose either.
That code I mentioned above works on just about everything on the site, including sale, so you may prefer to pick up one dress and some other bits and pieces. The new clothing for Summer has just been added, so there's lots to choose from.
Why not check out this blog* Lisa did on Sunday if you're looking for some other ideas?