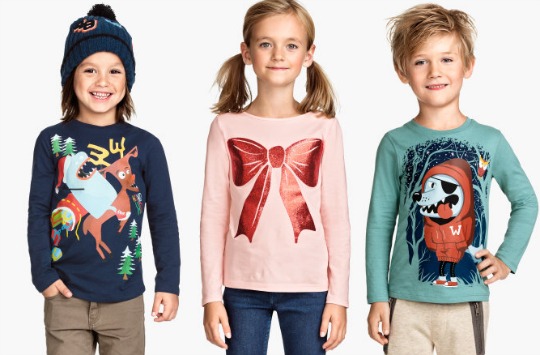 My kids go through clothes like there's no tomorrow, so when I see decent garments cheap, I get those bought. H&M have a section dedicated to items for children priced at just £2.99 and there's lots of great stuff in there. Watch out for a few that they have sneaked in at £3.99 (even though they are a bargain too)! Also, don't forget to enter the H&M offer code 2925 at the checkout and get FREE delivery. H&M won't process orders under £6, so remember to buy a few bits.
H&M is my favourite, blah, blah, blah. You all know that already, but this is another reason why they are. They will happily run two great offers side by side, to enable their customers to grab a bargain.
This Girls' Jersey Top* is only £2.99 (obviously) and comes in twelve different designs. Ideal for slipping on after school, for at nursery or just for playing in. Why not grab a pair or three of these Jersey Leggings* to go with it. An outfit for under £6, plus the leggings are on 3 for 2!
For boys, you'll be pushed to find better quality than these Long Sleeved T-Shirts*, and they come in a choice of six different designs. I tend to grab one of each when buying from H&M. Let's face it, they are cheap enough!
Don't forget to use the offer code to get your FREE delivery!