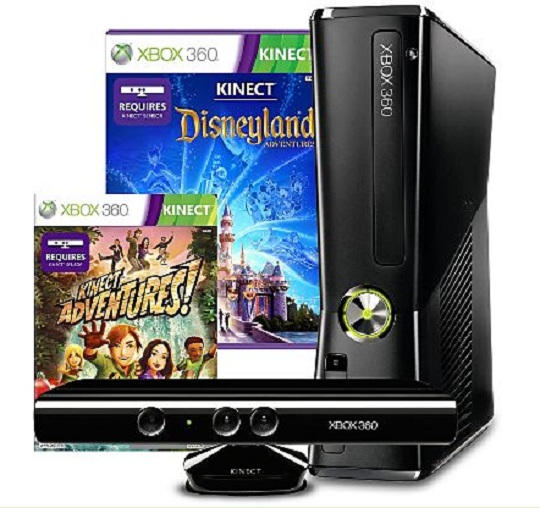 Get the whole family active while playing Xbox games with the unique Kinect when you buy an Xbox 360 4GB Console from Asda. This awesome deal is £179.00 for the Xbox, the Kinect Sensor and two games, Disneyland Adventures and Kinect Adventures.
"Jump, dance, and get your whole body in the game with the unique experience of Kinect". Everyone's talking about these games, they're awesome. The built in Wi-Fi also allows you to access tons of great entertainment on Xbox LIVE from HD movies and TV shows to sports.
Disneyland Adventures is a great game for the whole family. Harnessing the controller-free magic of Kinect for Xbox 360, "Kinect: Disneyland Adventures" allows families and Disney fans of all ages to explore Disneyland park, step into adventures based on attractions, engage in challenging quests and interact with beloved Disney characters using their full bodies and voices, no controller required. Kinect: Disneyland Adventures is your portal to a magical world of Disneyland park adventures.
Kinect Adventures features 20 pulse-pounding adventures set in exotic locations to get you and the whole family jumping, kicking and dodging your way around the TV room.
Xbox LIVE membership is required and is sold separately!