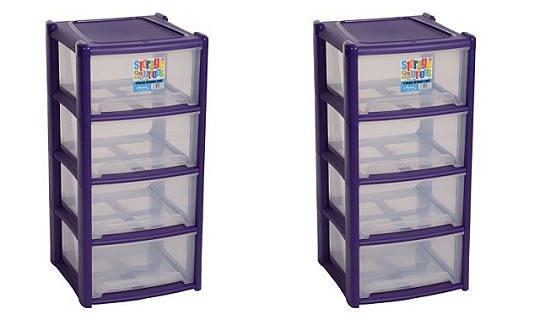 Perfect for storing anything from children's toys to shoes, Asda are selling two Plastic Storage Units for £35. Individually these units cost £20, saving you £5 when you buy two of them. FREE Click and Collect delivery to a store of your choice.
The four drawer deep storage unit comes in purple or green and is great for saving space and tidying up a room. Despite this amazing price they are sturdy and have a strong all-in-one frame so they can't fall apart. The drawers are also nice and deep so suitable to store just about anything. They have wheels on for easy moving around the house but the wheels can be removed to stack one set on top of another (and they click in together!). Put them on top of one another in a cupboard and you'll be amazed at how much extra storage space you've created.
I hate not being able to see what's in my cupboard because it's all on top of each other. This storage unit allows you to put everything away, out of sight and still know where it is, not hidden at the bottom of some cupboard somewhere.