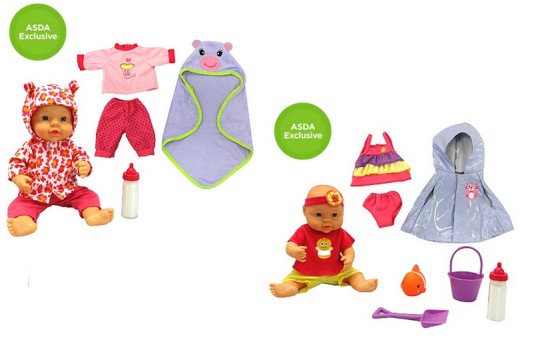 I'm not sure that this is a saving, as such, but the My Sweet Baby Doll with accessories is £8 at ASDA and is actually exclusive to them. It's such a lovely set though, I wanted to share it with you. Delivery from ASDA is £2.95, but you can click and collect for free instore delivery.
This offer comes with two options, it seems, and unfortunately there doesn't seem to be a way of choosing which one you want. I'd probably order two and hope to get one of each, and return one!
I just love the outdoorsy set, myself. The 12.5 inch doll comes with a swimming costume, clothing outfit, and an oh-so-cute rain poncho. It also comes with some beach toys and a fish and a milk bottle.
The other set is more of a bath time set - it comes with a bath towel, milk bottle, pyjamas and a change of the sweetest little bear ears hooded top.
I don't think it matters too much which one you go for, they are both so sweet and I think they'll be hugely popular with their recipients.