Being a mother is a full-time job, and like most full-time jobs, a little organisation can go a long way towards staying in control of all those balls you seem to have to juggle on any given day.
The range of Mum's Office stationery products is aimed at helping you do just that, and I've been trying out a few of these helpful organisational aids recently to see just how much help they can be.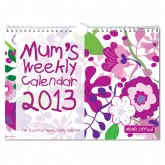 The full product line is quite big – I've been using the wire-bound Mum's Weekly Calender (normally £9.95 but currently reduced to £6.95) and the Family Address Book( £16.95) , but you can also get an ordinary weekly planner, a shopping list pad, to-do list pads (for mums or dads), plus other notepads, journals and a selection of year diaries.)
All of these share the same attractive design that's feminine without being overly girly, which is sometimes an issue (for me!) with products aimed specifically at women.
The first question that came to mind when I came across the Mum's Office products was that they might looked the part, but how did they differ from your normal calendars, diaries and so on to make them specifically useful to mothers?
To be fair, that's a tall order in the first place considering how different one mother's needs are to another's, but my general feeling after using them is mainly positive. There were a few elements and features I didn't personally find useful, but almost none that I wanted but which weren't there, which is better than the other way around.
The weekly calender devotes a week to every page, with each day given the same amount of space in seven equal rows. I love this because many Week to View calendars make Saturday and Sunday a lot smaller. 'Cause, you know, as parents you have nothing to do on the weekend- not. Vertically it's divided up into a wide first column titled "My Week", then five narrower columns titled "Everyone Else's Week", with space for a name at the top of each.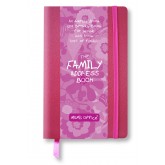 In general it works well, though a single mum of one, say, will be left with a lot of unused space but there's nothing stopping you from putting these columns to other uses.
The inside front cover lets you put in important contact numbers and user names and passwords for various online sites, though I'd suggest leaving this blank considering how easy it might be for others to view. The back cover, meanwhile, folds out to give additional space for important dates, plans for 2014 and a general "Our Week" section for weekly family routines.
The Family Address Book's unique twist is that it lets you enter contact details for whole families rather than individual people. The pages are laid out in the standard alphabetical style with physical tabs running down the right side of the pages, but for individual entries you've got space to fill in Surname, Phone and Address info for the family in general, then Name, Birthday, Mobile and Email details for each family member in a list below.
A few pages are set aside at the front for Dates to Remember, and at the back for a Christmas Card List (with tickboxes for Sent and Received), and important numbers and website info like the calendar.
In general it's a sturdy and well-made book that should happily last a good few years. And with room for three families per page and close to 10 pages allocated to each letter of the alphabet, you'll do well if you get anywhere near running out of room.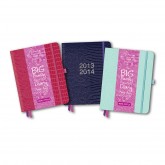 The Good
Good products that should withstand a life spent in a handbag or nappy bag
Good ideas for practical use - for example acknowledging that a family might have as much - if not more - on over the weekend as during the week
Sturdy and pretty
The Bad
It's not a unique concept, but rather a variation on a theme. What would make you choose this over any other brand? Well, small touches, like the fact that a whole family's info can be added, or extra space for the weekend, but that's gong to be very much down to personal choice.
The Verdict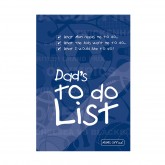 Overall, the Mum's Office products do a good job of delivering on what they claim to be – a twist on your standard organisational stationery aimed specifically at mums and families. You could say they're a solution to a problem that doesn't really exist for everyone, but if you're a mum looking for a new diary, planner or the like, or are thinking of an ideal gift for a hard-working mum or mum-to-be, it's money well spent.