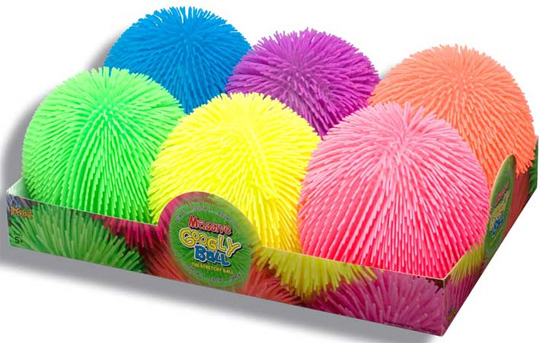 Newitts are selling Massive Googly Balls for £3 - I'm not sure what they're full price should be, or if that is it, but they look as though they should cost more than 300 of our Great British pence to me.
I've never heard of Newitts before and, to be frank, I didn't like the look of their website much (it's dark and it's busy), don't be put off by that though otherwise you'll miss the chance to bag yourself one of these Magic Googly Balls - I've just ordered five of them (for Crimbo) and the entire process was plain sailing and quick, you can pay by PayPal too if you want to.
I've not heard of Massive Googly Balls either (well not in this context anyway!!) but they look rather fun and daft.
They don't do anything, as such, other than be really weird, stretchy, squashy and bouncy - well that's more than enough, isn't it?
Massive Googly Balls are the sort of thing that makes an ideal stocking filler for that big C time that's rapidly heading our way (it IS, I don't care how much you protest!  You can't stop it, it's inevitable!) - cheap, cheerful and likely to be played with a lot.
My youngest son is VERY into playing catch at the moment; yesterday we were playing catch with my smaller stability ball - it was actually really good fun and my lats are 'talking' to me this morning as a result!
Anyway, I digress (no change there then) - there's no delivery to pay if your order is destined for somewhere within mainland UK, so £3 is all you're going to pay in total for your Massive Googly Ball.
Thanks to utopia1 at HUKD