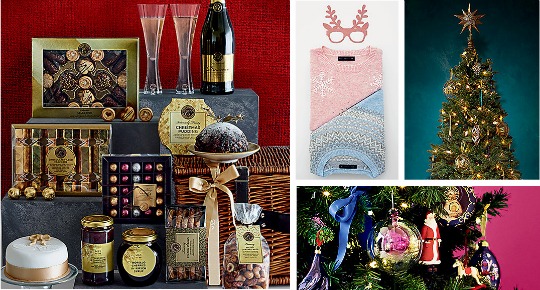 If you weren't already feeling festive then this ought to do it - the Marks & Spencer's Christmas Shop is online NOW! I haven't had a chance to have a really good rummage yet, but even from a quick look it looks like they have some great gifts, plus a big 3 for 2 offer to compete with Boots!
The Christmas 3 for 2 is a whopper, as it is Mix and Match across selected cards, wrapping paper, decorations, home fragrance and beauty gifts with more than 1200 items online starting at £1! Bet you can find a few goodies in there!
The Christmas Food To Order service is also about to start, on the morning of this Thursday 8th October to be precise.
The Home section is wonderful, as they are even doing their own take on the Christmas Duvet covers*, and very smart they are too. And if you are going to get a Christmas Jumper* then an M&S one is a tiny bit special if you ask me.
There's too much to tell you about in one blog post, so off you pop and dive right in! Feel free to share the best bits when you spot something!