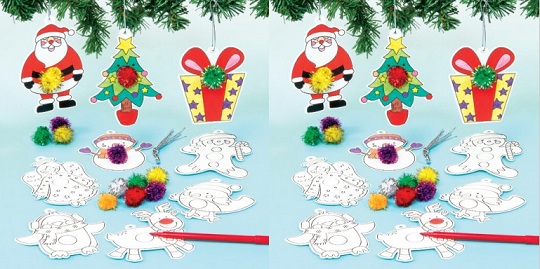 Save £1on this pack of pre-printed card shapes, glitter pom poms and silver hanging cord to make your own Christmas decorations. Previously £2.99, this 12-pack is now £1.99. But hurry, this offer ends TODAY at Baker Ross. Delivery of items under £50 costs £2.99 and your parcel will be delivered within five days. Alternatively, if you spend between £50 and £100, Baker Ross will give you £5 off and they'll throw in delivery for free.
My most prized Christmas decoration currently hanging on my Christmas tree - (I know we put up our tree early but as a family we just couldn't wait!) – is a Christmas tree shape painted by my daughter at Nursery when she was two years old. So why don't you have fun with your kids making your own Christmas decorations and save yourself a couple of Quid on expensive high street Made-in-China decorations.
Get this pack of 12 assorted designs which you and your kids can colour-in, and accessorise with glitter and pom poms then hang together with a silver cord. Each pack includes washable PVA glue or glue dots, 12cm tree, angel, Christmas pudding, gingerbread man, present, stocking, Santa, elf, penguin, robin, snowman and reindeer as well as pom poms and glitter.