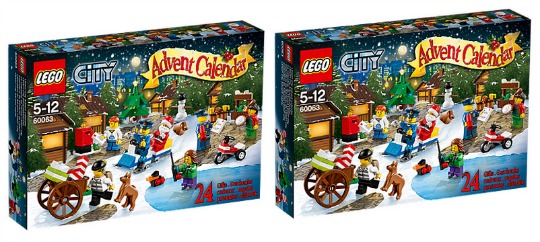 We have had a few "luxury" advent calendars over the last few days. This one is my absolute favourite for two reasons, I love all things Lego City and it's only £15.97. You may think ONLY for an advent calendar, but this is so much more than your regular chocolate one. Nip over to Asda Direct if you fancy one at this price. For comparison, it's £19.99 in Argos.
Lego City has never been so popular. My boys love it, my feet don't. They leave it around everywhere. This Lego City advent calendar has plenty in it for your money. Collect all the pieces as the run up to Christmas passes and you will be able to create a scene where you have to stop the crook from stealing presents. Oh how warm and Christmassy, NOT!
Here's what you get: seven assorted minifigures with accessories, Lego bricks (to build a duck?), a catapult with snowballs, a dog with a bone, a postbox, a frog, a snowman and so many more festive themed Lego bits and bobs.
Collect your for free from your local Asda store or pay £2.95 and you can have it delivered to your front door.