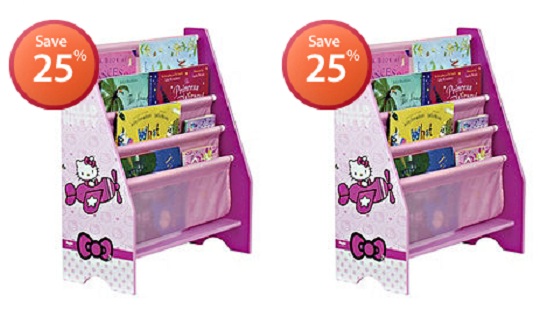 Save £7.50 on the adorable Hello Kitty Sling Bookcase that was £30.00 at Sainsburys. This really cute bookcase will help keep your little girl's room tidy and give her a great place to store books. Sainsburys is now selling the Hello Kitty Bookcase for just £22.50, nice deal and will help save the pennies a bit this Christmas.
This Hello Kitty Sling Bookcase will keep all groovy girls' rooms tidy. With its strong MDF frame and four fabric slings, it neatly stores books of all different shapes and sizes. It is pretty and brightly coloured and the perfect piece of furniture for all Hello Kitty fans. It also matches the other furniture items in the Hello Kitty furniture range.
The Hello Kitty Bookcase will seriously brighten up your child's room and will be so much more fun than a plain old wooden bookcase. Your little girl may even use it and actually tidy away her books herself she likes it so much.