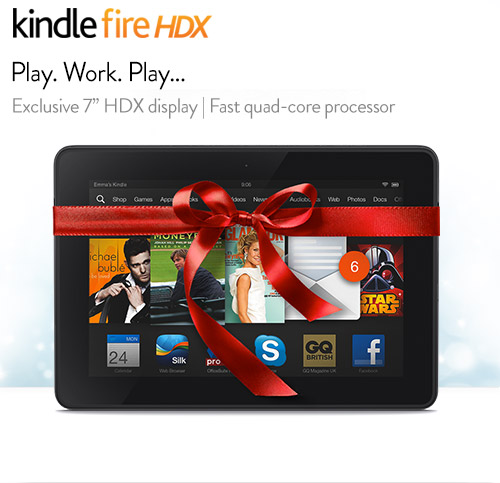 Amazon are selling the Kindle HDX 7" screen for £169 instead of £199, a £30 saving. This offer is available until 2 January 2014.
The all-new Kindle Fire HDX tablet combines groundbreaking hardware, the latest version of Fire OS, Kindle FreeTime, expanded X-Ray for films and TV, and the revolutionary new Mayday button.  
It has a stunning 1920 x 1200  (323 PPI) 7" HDX display, quad-core 2.2 GHz processor, 2GB of RAM, 11 hours of battery life, and dual stereo speakers with Dolby Digital Plus audio.
The offer is available on Wi-Fi devices and come in the choice of 16GB (£169), 32GB (£199) or 64GB (£229) storage. The Kindle Fire HDX is also available with 3G and ultra-fast 4G LTE.
The HDX also comes with pre-installed Kindle Freetime, an App that allows you to set up profiles for smaller members of the family, with their own libraries, ability to connect to the internet or not, and other parental controls. It prevents them from buying anything, or downloading anything, or worse - messing with your own settings. Also perfect if you don't really want them accessing your email or books and apps. 
For just old fashioned reading, however, the Kindle Fire HDX is awesome - I have one and it goes everywhere with me. I love having a whole library in my purse and think it would be an excellent present for anyone who loves reading!