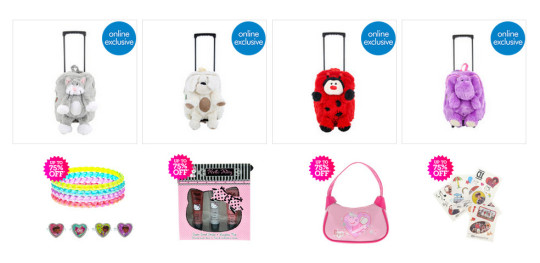 Claires has up to 75% off in their Summer Sale right now, with hundreds of items reduced to lovely low prices - I'm talking stocking filler prices folks, like £1.50 for a Doc McStuffins bracelet set, or a Hello Kitty Lip Gloss set reduced to £3. There's a Peppa Pig Handbag reduced to £4 and 25 One Direction Stickers for £1.50. We're holding out for the free delivery that should follow in a couple of weeks, but there's no guarantee of stock at that point - the£1.99 - £2.99 delivery is only on orders under £21 anyway.
What I particularly liked in this sale is the Kids Luggage which is reduced from £25 to just £10. I think this is a lovely transition for kids who've sort of 'aged out' of Trunkis, but still want something a little more exciting than a standard hand luggage suitcase. I know my daughter is getting a bit big for her Trunki and I'm loving the thought of one of these cuddly cases for her - I already know she'd choose the ladybird!
These are only available online, and are suited for children over three. They are plush trolli cases with a removable backpack and a height adjustable handle, and adjustable backpack straps. It looks lovely and plush and I bet if it was filled with clothes it could function as a pillow too - although I've not tried that, so don't take my word for it!