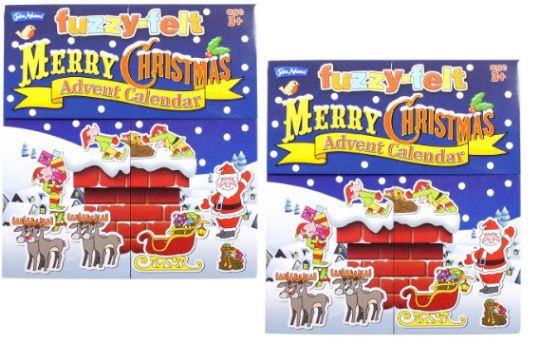 OMG! OMG! Oh my freakin' goodness! You can get a FUZZY FELT ADVENT CALENDAR. In case you hadn't noticed, I am super excited about this. I could lie and say that I am getting one of these for the kids, but it's not, it's for me. This is such a great gift for that someone in your life that was born in the 70's/80's. Having said that, the kids will absolutely adore it too. It's a great 'alternative' Advent Calendar and is selling for only £10.98 delivered (£7.99 plus £2.99 delivery).
The Fuzzy Felt Advent Calendar does not contain chocolate, it contains something far better behind all 24 of those festive doors... Fuzzy Felt!
Once all doors are open, there will be a traditional scene and your little one (or yourself) can make up your own with your 24 days worth of Fuzzy Felt. There's Santa, his Sleigh, the Reindeer and much more.
If having your Fuzzy Felt Advent Calendar is not convenient then you can opt for Collect+ at £2.99, which means you can pick it up from a local shop when you have time to.