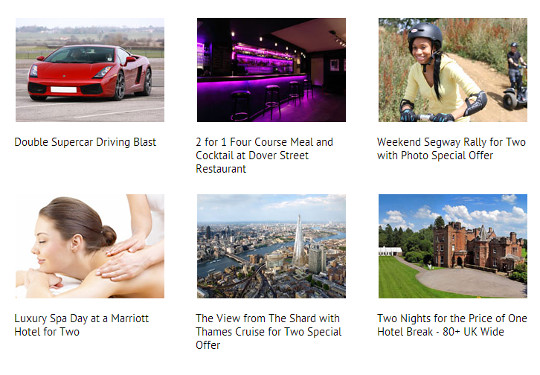 Buyagift.co.uk has a flash sale on this weekend, ending at 12am on Monday. Read on for a few of the sales.
What do you get for someone who already has everything? Well, Buyagift sells experiences, and I know in my home full of clutter, I'd rather have an experience than another bubble bath.
It's been forever since I've had a sit down meal in a restaurant, for example, and with BuyaGift you can visit Mayfair's exquisite Dover Street Restaurant and Bar for an evening of fine dining, cocktails and music* for £49 for two reduced from £158.
Before children, I used to have a massage at least every couple of months. Now it's been over a year, and the thought of a day of relaxation with a friend at a stunning Marriott hotel with a 50 - 60 minute treatment for £59 instead of £130 sounds great.
It's a few years down the road yet, but two nights away in one of over 80 hotels UK wide with breakfast for two people on both mornings for £89 sounds fabulous! We paid more than that for a lot less luxury for one night a few weeks ago! Definitely sounds good to me, and a Christmas gift to remember.