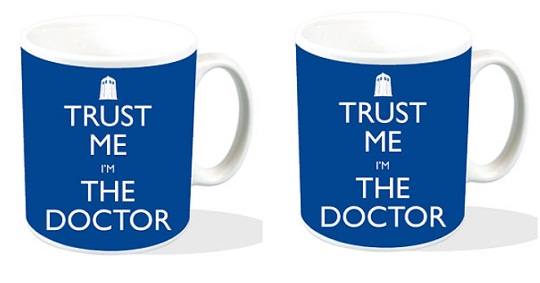 I recently snuck into a BBC Store to take a peek at the Doctor Who goodies they had on offer and I ended up spending a LOT of money on some of their tasty gizmos. A lot. And here are my honest words about the various Doctor Who goodies you will find in the BBC Store come this Christmas.
The first thing I got was a Doctor Who mug that reads: Trust Me, I'm The Doctor. It is done in the same font and layout as the Keep Calm posters (something I am starting to find a little boring, if I am honest) and my daughter adores it. Actually, this mug had us all fighting over who would get full ownership of it, obviously the small human won. The mug cost £7.99, is really well made and is as solid as a rock. This is due to it being dropped on the kitchen floor and surviving unscathed.
What can I say about a mug? It holds hot stuff and doesn't leak. I think that nearly £8 for a mug, even Doctor Who branded, is high, and that is my big complaint with a lot of the stuff in the BBC Store for Doctor Who Christmas. Like the Doctor Who Tardis dustbin that makes the sounds of the Tardis while the pedal is pushed.
This bin is super cool, it really is, but it costs £49.99 which is, in my view, extortionate for a dustbin no matter how cool the sounds. That said, the items that really caught my eye were from the Doctor Who home range including a Dalek teapot (!) and apron, serving tray, pillows and more. These are stunning and would honestly make the best Christmas gifts for a Doctor Who mad adult ever. I would like the teapot please.
All these items are on sale at the BBC Store but do expect to pay that little bit more for the Doctor Who branding…