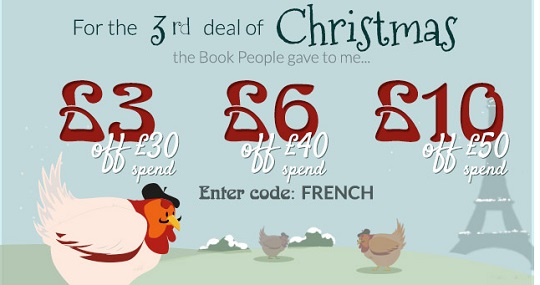 The Book People have launched their third deal of Christmas with a new voucher code and three separate discounts that will vary according to the amount of money you spend. Its £3 off £30, £6 off £40 and £10 off £50 using the code below before the close of play today.
Click here to get Christmassy at The Book People*
Discount: 3 off £30, £6 off £40 and £10 off £50
Promotional code: FRENCH
Expires: 03 December 2013
This deal from The Book People is only valid today and it is, amusingly, the three French hens of the famous Christmas song. This deal will take off the amounts above whenever you enter the voucher code at checkout. It means you can get some really good products at great prices and just in time for Christmas.
Check this deal out and, if you missed it, you can still get discounts on your Christmas gifts with our voucher page launched just the other day.