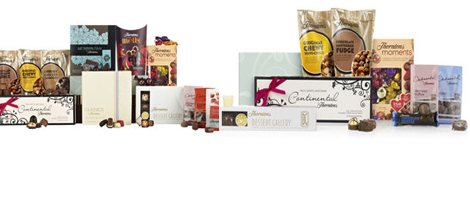 Oh, how I love Thorntons chocolates. I could talk about them all day and eat them all week. They make fantastic Christmas gifts, especially for difficult people, and now Thorntons are having a 25% off sale on a bunch of fabulous hampers.
There are four hampers included in the special offer. The first is the I Love Chocolate Hamper that has been marked down from £25 to £18.75. It includes Moments, Continental Viennese Truffles, Dessert Gallery, Chocolate Smothered Fudge, Original Chewy Toffi-Chocs and much more.
The Chocoholics Hamper is down to £37.50 from £50 (nice saving, that) and this one has loads and loads of chocolates stuffed inside. You'll find all the choccies from the first hamper, plus others, and all of them at bigger weights. This is a hefty hamper for a real chocolate fan.
Then there's the Family Share Hamper with Classics, Chocolate Reindeer, Santa Lollies, Snowman Lollies, Assorted Toffees, Truffles, Brazils, Melts and Chocolate Baubles. YUM! It is marked down from £35 to £26.25.
These offers end on 11 November so HURRY to nab your set, and then take another 10% off at the till by using the code WK05. Yeah!
Thanks to arsenal79place at HUKD!