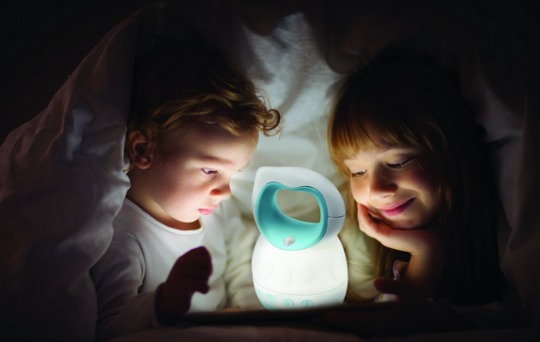 When I tell you about the Bkids Tell Me A Story Bedtime Lamp some of you might think that it is yet another gadget on the market that is out to replace a vital duty of a parent. I get that but I think that most of the people buying this will be like myself whose partner, aka daddy(or mum), works away. Who am I to stop my child from hearing daddy's voice last thing at night? The Bkids Tell Me A Story Bedtime Lamp is available to pre-order from Amazon for £39.99 delivered. Available from 29th May.
The Bkids Tell Me A Story Bedtime Lamp lets you upload stories in your own voice for your little ones. You can sing them a lullaby or read them a story. How you do this is via a Smartphone App, so it should be fairly straightforward.
The app is compatible with both Apple devices and Android which covers most of us. There is a choice of twenty stories and fifty melodies but I think it's more special to record your own story or message on it.
It charges via a USB charger and omits a nice calming glow to alleviate any fears of the dark.
If you are the parent that is in the Armed Forces or just works away a lot, then that can sometimes come with guilt when you aren't there to do precious things like read a story to your child. This Bedtime Lamp lets you do that.